It's not a secret that I think most new shooters are best served with "general-purpose" carbine and lots of practice. That's what I outlined in my guide to buying your first AR-15. While there, though, I also outlined several specialized configurations developed over time.
I want to dig a little more into the role of the precision carbine. The two major branches are the Mk12 Special Purpose Rifle (SPR) and the slightly less standardized compact cousin, the Recce rifle. Keep in mind the Recce was never a formal designation. It's a label the civilian world came up with for what the SOCOM guys were doing.
Despite never having an official designation, the Recce rifle format has been extremely influential in modern AR culture. In fact, the ideas behind it underpin just about every "general purpose" configuration out there.
So let's dig in.
Short History of the Recce Rifle
If you aren't familiar with the lingo, "Recce" is British slang for reconnaissance.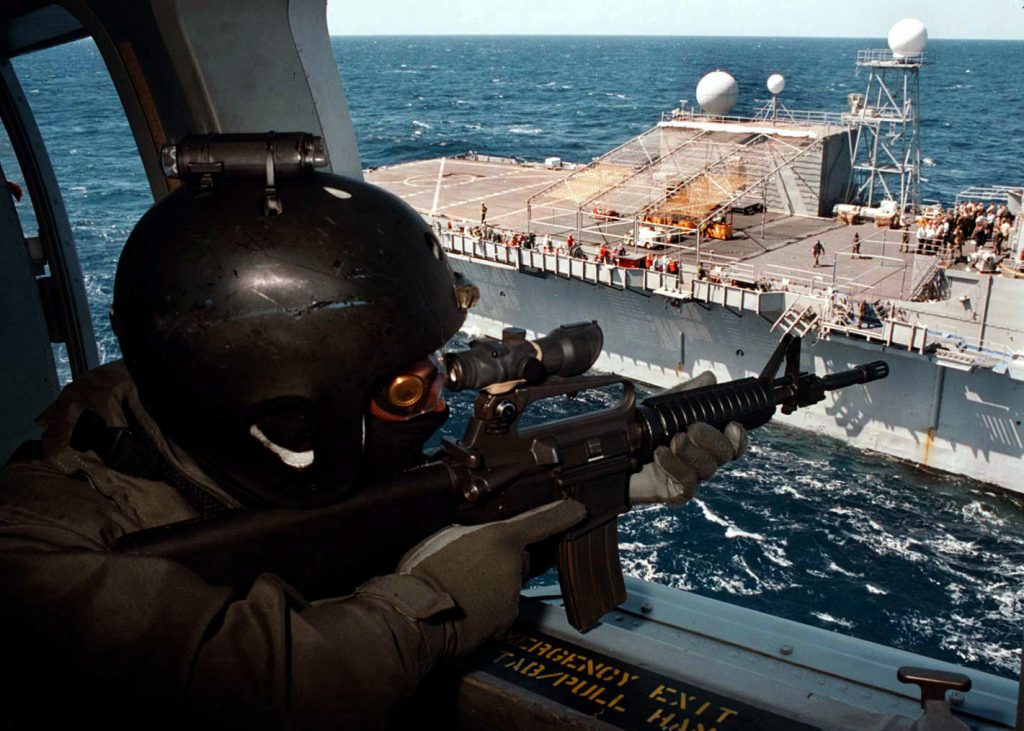 Mounting a precision scope onto a standard infantry rifle isn't a new idea by any means. I outlined a lot of that history in my post on DMR/SPR rifles– but this particular thread of AR-15 development seems to have origins in the early 1990s. Nobody really knows the true origins of it. All we've got are stories.
The story goes that US Navy SEAL snipers began mounting precision scopes and barrels to some of their M4 carbines as in-house modifications for team snipers. That means that there was no official specification. It was a personal choice of the individual sniper.
The intent was bridging the capability gap between a standard infantry carbine like the M4, but not step up to the size and weight requirements of something like the M14.
Kyle Defoor, a former SEAL Sniper and current firearms trainer, gave the best approximation I've seen. The original thread is lost to the internet, but thankfully quotes still exist in some forums:
Another SEAL in a related discussion laid out the role.
This capability is not unique, and represents a similar line of thinking seen overseas, particularly in Russian and British infantry doctrine for so-called "sharpshooters."
Enter the Special Purpose Rifle
The SEAL Recon Rifle gained enough popularity that it left the hands of individual units and went up to NSWC (Naval Surface Warfare Center) Crane for further development.
The Army had a similar idea around the same period. According to the Small Arms Defense Journal, 5th Special Forces Group previously toyed with the idea. They called for an accurized upper receiver with a heavy barrel that could mount to standard lowers . Such a receiver was primarily focused on precision. However, it could still support with automatic fire as needed. The design was apparently ahead of its time and didn't gain traction with the Army.
At the same time, the Marines went through a series of exercises, notably Project Metroplis, and came to a similar conclusion about improving the capabilities of the squad. That branch became the Squad Designated Marksman for the Army and Squad Advanced Marksman for the Marines.
NSWC Crane went to the Army to seek input on developing a new lightweight sniper rifle and cartridge to go with it. The Army Marksmanship Unit (AMU) also entered the picture to offer their input.
The end result of this program was the Mk12 Special Purpose Rifle for use as a light sniper rifle. The original specification detailed a 20″ barrel, but the Navy's procurement system wouldn't approve it since 20″ barrels were already "in the system."
The fact that these were the less accurate M16A2/A4 barrels didn't matter to the bean counters. So the barrel specification became 18″ and the bean counters were satisfied.
SOCOM officially fielded the Mk12 rifle in the early 2000s with a Douglas-made 18″ rifle-gassed match-grade barrel. It had a fixed-length M16A1 stock, a two-stage select-fire trigger, and a free-floated handguard. There were two variants, the Mod 0 and Mod 1. There are subtle differences between them, but the most obvious is that the Mod 0 uses a PRI Carbon Fiber handguard and Mod 1 uses the KAC RAS.
Both versions came with Ops Inc mounts and suppressors. The optic of choice was a Leupold TS-30 2.5-8×36. The cartridge developed for the project was the now-famous Mk 262 77gr OTM.
The idea of a 20″ barrel never really went off the table. Both the Army and the Marine Corps still wanted 20″ match grade barrels, and that configuration saw service as the SAM-R (Marines) and SDM-R (Army).
Drawbacks
The Mk12 saw use all over SOCOM with the 75th Rangers, Special Forces Groups, Navy SEALS, and Air Force Special Tactics. But that doesn't mean everyone was happy with it, particularly the SEALS. They saw it as a less-effective version of what they started with.
Kyle Defoor put it bluntly:
So, in other words, officially making a program out of the SEAL's Recce rifle turned it into a larger and heavier weapon that wasn't as useful.
Now that we've got the history out of the way, let's talk about building one for ourselves.
Breaking Down the Modern Recon Rifle
I am not a clone dork.
By that, I mean that I don't enjoy building exact clones of military rifles. I find constantly searching for "correct" parts to be boring and tiresome. In a lot of cases, the specs for a particular rifle came out in a period where there just weren't the number of options we have today.
In fact, I would argue that you can build a better rifle today since the market has truly evolved a lot since 2002. Instead, I prefer to look at the role a rifle filled and build towards it using available resources.
So let's look at the core requirements for a Recce Rifle:
Accurate enough to serve as a light sniper rifle
Durable enough barrel to support an elevated rate of fire
Two-stage match trigger
Free-floated barrel
Either a low profile gas block or front sight tower (both were common)
Adjustable stock
Variable power optic
You might look at this list and think, "You know…that's an awful lot like most of the ARs I see posted in forum threads all over the internet."
You're not wrong.
Since 2010, the SEAL Recce rifle concept exerted a huge influence on the civilian AR world. Objectively speaking, it brings a lot capability to the table. It's accurate, good looking, and compact enough to live with while working well at close and mid-range distances. 
For a lot of folks just getting into the game, it's their ideal "SHTF-TEOTWAWKI" general-purpose rifle. That's actually why a Recce was my very first build, which I detailed in another article.
But everything comes with tradeoffs.
Something else to keep in mind is that the phrase "SPR" has grown to include any precision-carbine, not the just the Mk12. I have another build breakdown in my post on DMR/SPR rifles that you will find useful.
The Recce Rifle Barrel
The April 2012 issue of Shotgun News had a nice little article by James Tarr about the Recce Rifle and an attempt to build his own. He mentioned that the original early 90's NSW Sniper M4s usually had 16″ carbine-gassed match barrels produced by Lilja.
The official Mk12 program used 18″ rifle-gassed barrels by Douglas.
Both of these are fine manufacturers who make accurate barrels. However, I don't think that you should pursue crazy levels of accuracy here. A barrel capable of 1 MOA is more than sufficient for a light sniper role at less than 400-600 yards.
For a 16″ recce barrel, I'd with any of these options:
Mid-length gas was not a "thing" in the early '90s, but it's very common today. So I believe a 16″ middy is the ticket for most people. Could you go shorter, say something like a 12.5″ or 14.5″ barrel? Absolutely. And there are some great arguments for doing that. But then you're dealing with NFA constraints and I typically try to keep newer shooters away from those.
If you're trying to be as close to the real thing as possible, the owner of
Centurion Arms
spent a long time developing the contacts to sell the exact same barrel used on the real deal carbines.
The Recce Rail
The market has come a long way since the early '90s or even the early 2000s. We have an almost unlimited number of choices when it comes to rails and handguards.
Our priority here is weight and durability. The recon rifle often gets used with a bipod or other rests. We want to minimize the flexion of the rail, provide good free-floating capabilities, and have strong mounting points for accessories.
This is really a personal preference, but I'm a huge fan of BCM's rails these days. The mounting system works well and you can have it in your preferred flavor of Keymod, M-LOK, or 1913 rail.
I added a few more rails here, to include some personal favorites from Centurion Arms. There are plenty more on the market, but getting bogged down in Rail X vs Rail Y discussions really isn't all that helpful. 
Think light, durable, and secure.
Stock Selection
The original Recce Rifle design came from accurizing M4 carbines. The modified versions that sprang up as teams worked over their Mk-12 rifles usually got collapsible stocks as well.
As such, it seems fitting to use a collapsible stock here. If you don't mind the extra weight, the UBR 2.0 provides the best lockup and is the most solid feeling out there. It's also compatible with the A5 buffer system, which is a big plus for me.
Aside from that, I say pick your choice from any of the quality makers out there like BCM, B5, Vltor, or Magpul.
Trigger Choice
I don't see any reason to make this more complicated than the article I already wrote on the subject. Triggers are a highly personal thing. A two-stage trigger is my preferred, and also what NSWC Crane installed in the Mk-12 rifles.
Recce Rifle Optics
The final step is probably the most challenging. The optic you choose stems from how you want to use the rifle. The original rifles had a wide variety of optics, but the 2.5-8 or 2.5-10 magnification ranges were the most common. However, I've also seen 1-4, 1-6, and fixed low power magnification optics like the Elcan or ACOG used as well.
The thing to keep in mind here is that the Recce Rifle was not meant to be used at the long ranges a 10x scope is usually the answer for. However, only shooting at range like that isn't always the role of the sniper. One of the quotes above highlights a lesser-known function of observation.
Think about scouting here, actually doing the recce. More magnification provides you with a bit more power to observe the target and provide support as necessary. Now there's nothing stopping you from using slightly less magnification and also bringing along a nice set of binoculars. In fact, that's probably the more comfortable option for most people.
I personally don't think First Focal Plane (FFP) or Second Focal Plane (SFP) makes a huge difference here, but I have a personal preference for FFP optics. A second focal plane (SFP) scope is easier to use at lower magnification unless the manufacturers have a very well thought out reticle. 
The advantage we have today over twenty years ago is that the optics market is dramatically different, and we can take advantage of that. 
Can't You Just Buy a Complete Rifle?
Of course you can. The Recce configuration is very popular, so a lot of companies make good approximations right out of the box.
To me, pretty much any quality built 16″ AR-15 will serve effectively as a Recce Rifle if you put the right optic on top. Most of the arguments flying around the web effectively come down to window dressing.
The real difference is the skill of the shooter behind the rifle.
Wrapping Up the Recce Rifle
To close out this discussion, let's review a bit.
The original SEAL Recce Rifle was an in-house modification to M4 carbines. Since they were so individualized, there really wasn't a spec. But we do know that Lilja barrels and optics in the 2.5-10 range were popular.
The original intent was to allow snipers to observe and provide rapid lightweight precision-fire capability at moderately close ranges (300-400 yards). If needed, the recon rifle could serve for house clearing or traditional fire and movement.
In other words, it was a true "general purpose" configuration.
I hope you found this guide helpful. As always, let me know if you have any questions in the comments.